Mother Nature teased us with a beautiful spring day in the middle of February! It felt more like April or May, but we have a few months to go until we truly reach spring. Whether you are a sports fan or not, this month the news will be overflowing with "March Madness" stories. Born out of the college basketball competition, the bracket competition model has spread to other areas, locally even involving Lenten fish fries! The Ultimate Pittsburgh Fish Fry
So how could March Madness possibly apply to your business? Think for a moment about what your marketing strategy would be if there was a bracket for your business. What things would you do to prepare for your competitive match?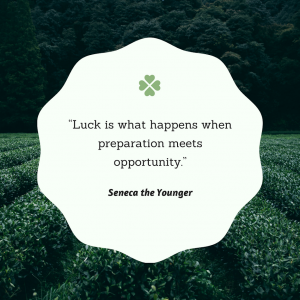 Invariably there will be stories of the top-notch schools that are expected to win it all, versus the underdog teams that no one thought would even win their first game. Our culture is often drawn to the underdog story (think of Super Bowl LII which turned avid Steelers fans into Eagles fans for three hours), and many reflect that their win was due to "luck". Did the Eagles really win because they were just "lucky"? Have you ever competed against a top-notch business and won that contract, even though you were considered the underdog? Was it luck that you won, or something else?
A common definition of luck is "success or failure brought by chance rather than through one's actions". I believe there are times when luck plays in your favor, but whether it is March Madness and someone sinks a "lucky shot", or a smaller business has a "lucky break" and wins a big contract, I believe there is more to that than just chance. Roman philosopher Seneca the Younger said "Luck is what happens when preparation meets opportunity". Did the player have a "lucky shot" or did he or she simply have better preparation and more practice? Did the small business catch a "lucky break" to win the contract or have better preparation to seize the opportunity?
The top-notch basketball programs and big businesses got to the top through preparation and practice, but all of them were an underdog too at some point. Where do you think you would place on a bracket for your business? What are your goals for your business this year? Maybe the cold, wet spring weather will give you some extra time to prepare for your next opportunity. And of course, I wish you luck as well.
The above was an excerpt from BBWChamber monthly newsletter. To see the entire newsletter, visit http://www.bbwchamber.com.